Team Fortress 2 премиум доступ
Выберите издание:
Способы оплаты:
Приват24
|
Visa
|
MasterCard
|
Терминал
|
LiqPay
Дата релиза:

Oct 10 2007

Разработчик:

Издатель:

Вебсайт:
Минимальные:
ОС: Windows® 7 (32/64-bit)/Vista/XP
Процессор: 1.7 GHz Processor or better
Оперативная память: 512 MB ОЗУ
DirectX: Версии 8.1
Сеть: Широкополосное подключение к интернету
Место на диске: 15 GB
The Jungle Inferno Update
Play the all-new Jungle Inferno Campaign!
1 new official map: Mercenary Park
5 featured community maps: Mossrock, Lazarus, Brazil, Enclosure, and Banana Bay
2 new official taunts: Yeti Punch and Yeti Smash
5 new community taunts: The Dueling Banjo, The Jumping Jack, The Soviet Strongarm, The Russian Arms Race, and The Headcase
2 community cosmetic cases with 20 items each
2 new War Paint collections made up of community-made War Paints and official War Paints
2 new War Paint collections filled with classic weapon skins being brought back for another tour
4 new Pyro items: The Dragon's Fury, The Thermal Thruster (with a new kill taunt: The Gas Blast), The Gas Passer, and the Hot Hand
1 new Heavy item: The Second Banana
Free contracts to earn the new Pyro and Heavy items
36 campaign contracts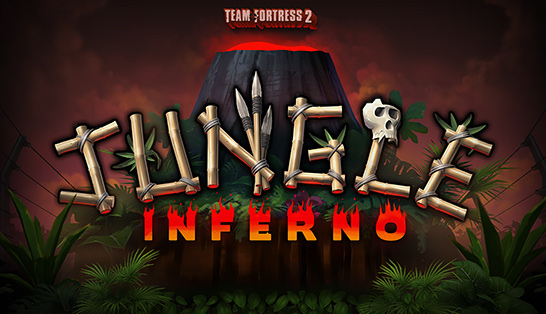 Об игре
«Самая веселая многопользовательская игра» — PC Gamer

Теперь БЕСПЛАТНА!

Никакого подвоха! Играйте, пока вам не надоест!
Самая высокооцененная бесплатная игра в истории!

Являясь одной из самых популярных многопользовательских экшен-игр всех времен и народов, Team Fortress 2 постоянно развивается вместе с непрекращающимися бесплатными обновлениями, вместе с которыми в игре появляются новые игровые режимы, карты, предметы и, самое главное, шляпы. Девять игровых классов откроют доступ ко множеству разнообразных тактик.
Новичок в TF? Не переживайте!

Каждый класс по-своему уникален и не даст заскучать даже самому искушенному игроку. Мы подготовили специальный курс обучения, а также игру с ботами, которые помогут вам отточить свои навыки, прежде чем сыграть в один из множества режимов игры, таких как захват разведданных, контрольные точки, сопровождение, царь горы и многих других.
Создайте свой собственный образ!

В игре есть огромное количество вооружения, шляп и всего остального. Предметы могут выпасть вам случайным образом, или же вы можете их сковать, купить или обменять. Вооружите ваш любимый класс так, как вам хочется. Не обязательно покупать предметы в магазине Манн Ко — их можно получить бесплатно во время игры.

http://www.teamfortress.com/freetoplay">
Вы можете
купить Team Fortress 2 премиум доступ в Украине
и СНГ дешево и быстро.