ESSENCE
Выберите издание:
Способы оплаты:
Приват24
|
Visa
|
MasterCard
|
Терминал
|
LiqPay
Минимальные:
Требуются 64-разрядные процессор и операционная система

ОС: Windows 7

Процессор: Intel Core i5-2400 | AMD FX-6100 | or equivalent

Оперативная память: 6 GB ОЗУ

Видеокарта: NVIDIA GeForce GTX 700 series | AMD Radeon HD 7770 | or equivalent

DirectX: Версии 9.0

Место на диске: 5 GB

Звуковая карта: DirectX 9.0c compatible sound card
VR SUPPORT IN THE FUTURE
ESSENCE will become an additional playable VR mode in the future. It will be playable with Oculus Rift and HTC Vive and will come as a free addon. More Information: http://steamcommunity.com/games/482440/announcements/detail/616273923127759868
UPCOMING UPDATES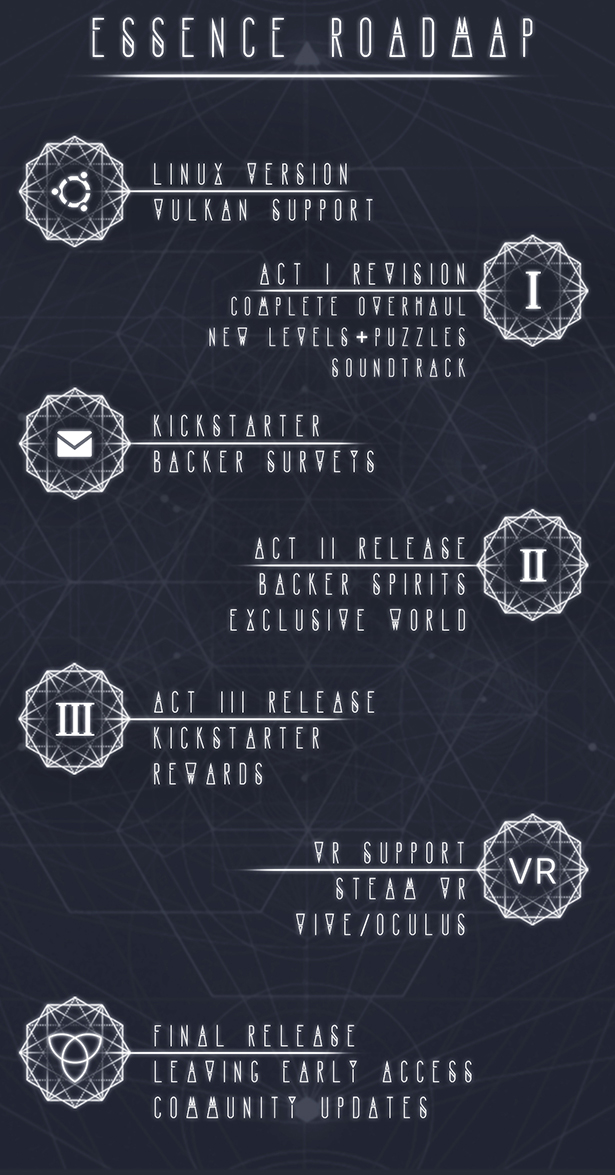 Click here for more information about the Roadmap in the Steam forum.
http://steamcommunity.com/app/482440/discussions/4/1318836262649412932/
Об игре

There is no memory and lost in the sea of stars, something is reaching for you.
Now it's time to wake up and explore this majestic and forgotten world, emerging out of the gloom and unfolding its branches towards your enlighten curiosity.
Open yourself to its exhilarating landscapes, forgotten thoughts of another time, surreal happenings and a mystery veiling a truth about this world.
Remember your being and remember your abilities. Wander freely through these lands and beyond to find yourself. And finally discover the truth, the past and the future of places, you never believed would exist...

ESSENCE is a surreal and atmospheric first-person exploration game.
This game is as much about exploring the different worlds and collecting lost and cryptic fragments of beautiful landscapes as discovering secret places filled with mysterious messages. Also, it is about learning new abilities that help you proceed further on otherwise hidden paths. The further you will go the more possibilities you will have to interact with the world and its surroundings.
The game has a narration, that will combine messages from different characters with a dense and diverse environmental storytelling. By uncovering all these places and messages you will experience an anomalous story that slowly leads you to one interwoven conclusion.
ESSENCE is a mesmerizing journey full of wonder in which you can lose yourself, diving deep in an atmosphere, filled with feelings about an ancient civilization, arcane technology and lost philosophy, a journey that will change the way you see exploration ...
See you soon,
Traveler Вы можете
купить ESSENCE в Украине
и СНГ дешево и быстро.