Gold Rush: The Game
Выберите издание:
Способы оплаты:
Приват24
|
Visa
|
MasterCard
|
Терминал
|
LiqPay
Минимальные:
ОС: Windows 7 (64-bit) or Newer

Процессор: Intel Core i5

Оперативная память: 8 GB ОЗУ

Видеокарта: NVidia GeForce GTX 760

DirectX: Версии 11

Место на диске: 15 GB

Звуковая карта: DirectX compatible
Вышло обновление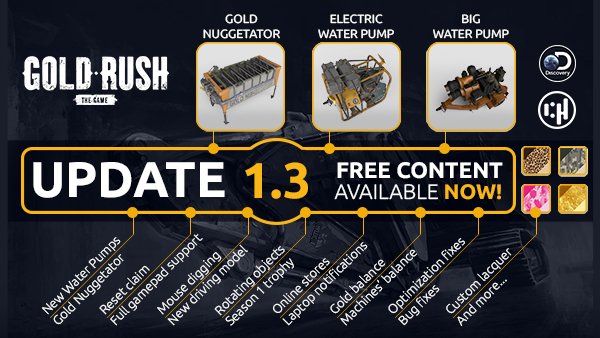 Update 1.3 is LIVE!
New free content, bug fixes, and significant performance upgrade!
Hello Prospectors,
We proudly present the 1.3 Update, which includes:
New equipment.

New features.

New lacquers.

Performance upgrade.

Bug fixes.
See the full changelog:
https://steamcommunity.com/games/451340/announcements/detail/1653261512197314953
New Equipment
Gold Nuggetator - save precious time by washing multiple miner's mosses (big and small) at once.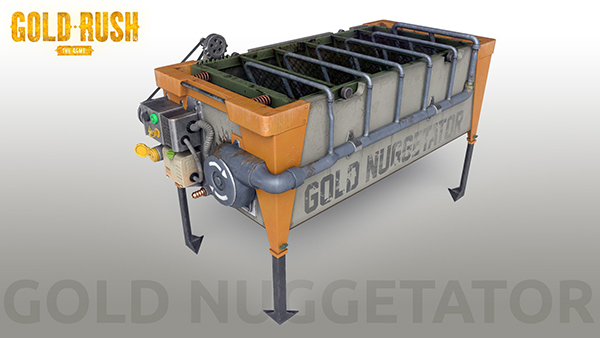 New Water Pumps - we introduce new pumps, adapted to the changing needs of the gold mining operation. Depending on the scale of your activities, choose from Big Water Pump, Big Electric Water Pump, or the top class Big Electric Water Pump.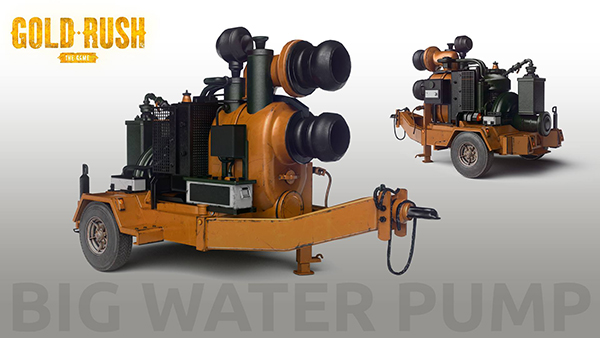 New features
Online stores - with Online Equipment Store and Online Machines Store available on your laptop, you can make your life easier and spend more time digging gold instead of shopping.
Rotating objects - not only for perfectionists. Additional precision will allow you to create your perfect setup.
Claim reset - now that you've gained experience, you can start fresh and use your know-how to run your gold mining operation more effectively.
Important! Machines from the claim will go back to the Shop, but Equipment will be lost.
And more - Excavator's mouse digging mode, Notification's tab on the laptop, Season 1 trophy, and other are waiting for you in Gold Rush: The Game. Go check it now!
New Lacquers
Tired of your ordinary vehicle lacquers? Want to express your uniqueness and extravagance?
Try brand new custom lacquers. Who said gold mining can't be fashionable!
Available variants: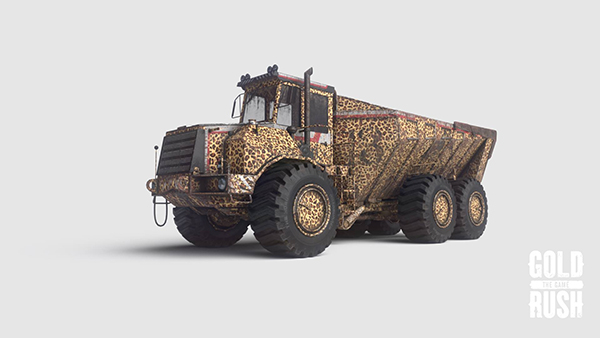 Performance upgrade
Confirmed by players, new fixes significantly improve frames per second rate. For more details, see the changelog or simply test it by yourself!
Bug fixes
With your help, before and during the open beta update, we were able to find and fix multiple bugs. For the full list, check the changelog.
Вышло обновление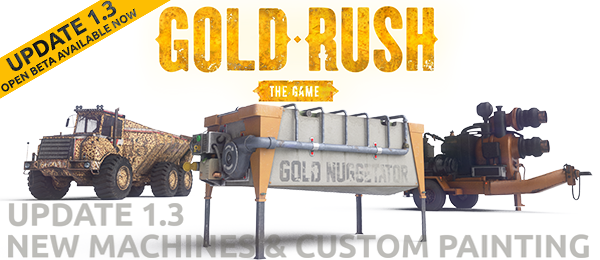 Open Beta Update 1.3 is here!

Gold Nuggetator, New Water Pumps, Vehicles Skins, Claims Reset - that's just the most important features.
Check our changelog here.
More info about how to join to the beta: http://steamcommunity.com/sharedfiles/filedetails/?id=1346397630
Новый дополнительный контент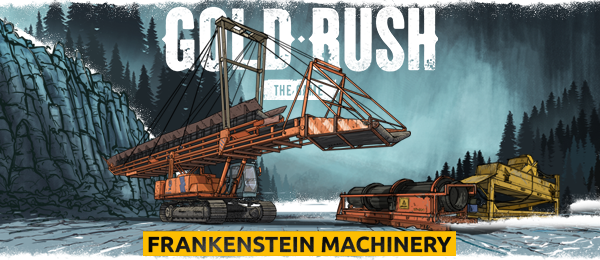 Frankenstein Machinery has arrived!

Mobile Conveyor and new Washplant parts are available to buy as a DLC.
Visit our steam page to buy that DLC and add it to your Steam Account!
http://store.steampowered.com/app/773500/Gold_Rush_The_Game__Frankenstein_Machinery/
See you on the claim!
Вышло обновление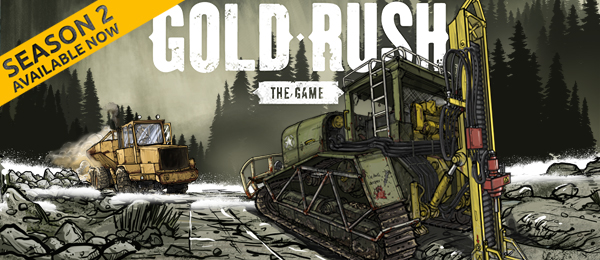 It's time for Season 2.

Fresh start for everyone with new and upgraded features.

Use De-Rocker to take your screening performance to the next level.

Stop digging blindly! Use Drilling Machine and find the biggest gold deposits on your parcel.

There is new claim available. Explore it to find more gold then ever before. See you at Nighthawk Parcel.

Don't limit yourself to one machine. Right now you can use multiple dumptrucks or any other machine.

and more!
Об игре
Те, кто никогда даже не мечтал о том, чтобы найти золотой самородок, поднимите руку вверх. A теперь, идите сюда все, мне надо вам кое-что сказать. Остальные пусть радуются опыту, потому что я не могу в большей мере привлечь ваше внимание. Это для нас всех как исполнение мечты, да?

Благодаря Золотой лихорадке ты испытаешь на себе тяжелую жизнь золотоискателя. Ты начнешь с несколькими долларами в кармане, однако со временем сможешь стать самым богатым человеком на Аляске.


Мы создали большой, подробный мир с четырьмя уникальными месторождениями. Ты найдешь на них полностью изменяемую территорию. Каждый элемент созданного нами мира имеет свою историю, которую ты можешь прочитать в свободное время.

Нашей главной целью было создание реалистичной симуляции. Ты проведешь много времени в экскаваторе, потому что это основная машина для добычи золота. Принимая это во внимание, мы посвятили большую часть времени на то, чтобы обеспечить для тебе самое лучшие впечатления от игры.

В нашей игре нет компании. Мы решили, что у игрока будет полная свобода. Если ты когда-нибудь почувствуешь себя потерянным и не будешь знать, что делать, нажми кнопку TAB, чтобы проверить дневник и DIGTube для получения дополнительной информации.

Помни: никто не в состоянии работать днем и ночью. Даже если бы ты хотел и мог, то тяжелая работа золотоискателя зачастую связана с припятствиями со стороны природных сил. Трудные погодные условия с легкостью могут повредить машины и остановить добычу на длительное время. Не забывайте и о зиме, когда добыча полностью останавливается. Вы можете
купить Gold Rush: The Game в Украине
и СНГ дешево и быстро.