Mystic Vale
Выберите издание:
Способы оплаты:
Приват24
|
Visa
|
MasterCard
|
Терминал
|
LiqPay
Дата релиза:

Jan 31 2019

Разработчик:

Издатель:

Вебсайт:
Минимальные:
Требуются 64-разрядные процессор и операционная система

ОС: Windows 7 64-bit

Процессор: 2.0GHz

Оперативная память: 1 GB ОЗУ

Видеокарта: Nvidia 450 GTS / Radeon HD 5750 or better

DirectX: Версии 9.0

Место на диске: 400 MB

Звуковая карта: On board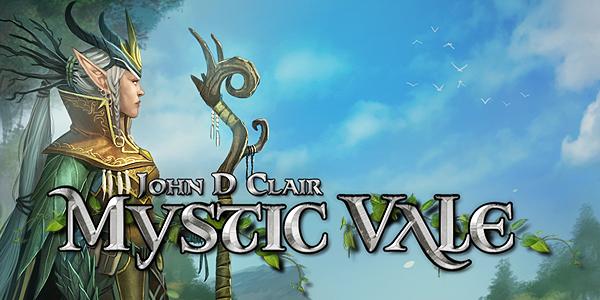 Take on the role of a druidic clan and use your blessings to heal the Valley of Life. This task doesn't come easy though, it requires both courage and caution as it can be easy to overwhelm the land if you're careless or wield too much power.

Based on the Origins award-winning board game from AEG, get ready for an all-new deck-building experience in Mystic Vale. With the innovate Card Crafting System, you can keep improving and building your cards to create a diverse and effective deck.

Mystic Vale is easy to pick up for those new to deck-building games, yet is challenging even for those skilled in the genre. Practice against AI opponents from easy to hard and if that's not challenging enough you can add up to 3 AI players which makes the game an even bigger challenge. That perfect combo card could be picked up long before it's your turn again!

If you think you have what it takes to battle other druids, Mystic Vale has Online Multiplayer where you can find and create public or private rooms.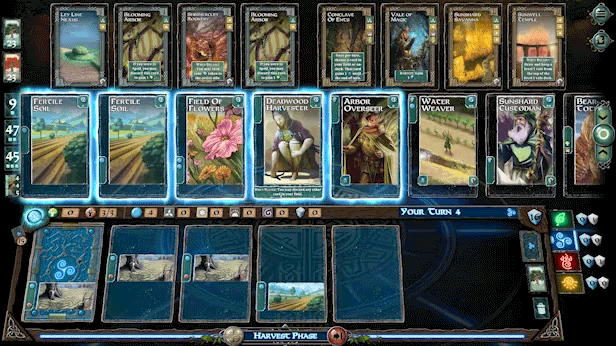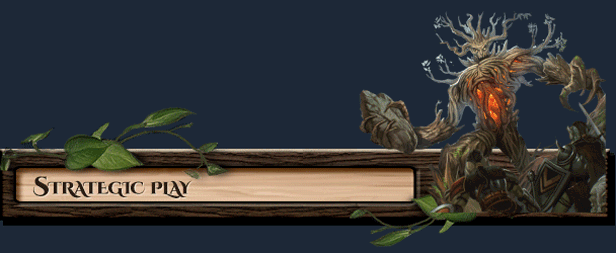 Cards combine in a variety of different ways creating powerful combos. What combo wins one match might not win you your next one, though. If you're a risk-taker, Mystic Vale has a push-your-luck element, but if you spoil your hand, you'll miss your turn and maybe even that special card you were hoping to collect.
Remember, keep an eye on your opponent's cards to see what advantage they may have over you and which cards they may want.




Mystic Vale debuts a new approach to the deck-building genre. You start and play through the game with the same 20 cards, however, each card has 3 slots available within it which you can add advancements to by buying them from the field.
Each advancement has different abilities and properties, which when mixed together can create powerful combos. Some cards will offer you extra resources and perks but they may come at a high cost. Determine your strategy and build your deck to your play style.



Find online matches within the community or host your own private matches with friends. You can set the matches to suit you, whether you want an extended pool, playing with/without expansions or want to add turn timers to keep the game moving quickly. Online multiplayer is also available cross-platform so you can play against your fellow druids no matter if they're on PC, Android or iOS.

If your clan are all together in one place, Mystic Vale also supports Hot Seat for up to 4 people!




Discover amazing artwork throughout the game. Each card within the game has a subtle hint of animation helping to really bring the game to life.


May your clan cleanse the Valley of Life! Вы можете купить Mystic Vale в Украине и СНГ дешево и быстро.