SCUM
Дата релиза:

Aug 29 2018

Разработчик:

Издатель:

Вебсайт:
Минимальные:
Требуются 64-разрядные процессор и операционная система

ОС: 64-bit Windows 7, Windows 8.1, Windows 10

Процессор: Intel Core i5-4430 / AMD FX-6300

Оперативная память: 8 GB ОЗУ

Видеокарта: NVIDIA GeForce GTX 960 2GB / AMD Radeon R7 370 2GB

DirectX: Версии 11

Сеть: Широкополосное подключение к интернету

Место на диске: 20 GB
Издание Digital Deluxe Edition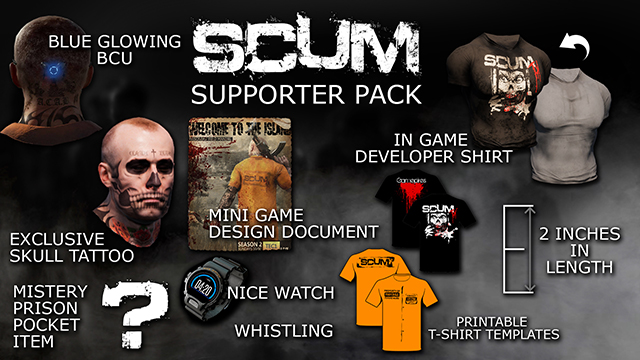 The SCUM Supporter Pack is a bundle of extra goodies for the people who want to go another extra mile to support SCUM developer Gamepires. All items are purely for visual purpose and do not affect game play in any impactful way. More items will be added to the supporter pack as we progress through the Early Access period of SCUM. The SCUM Supporter Pack includes the following digital items:

- Unique blue glowing BCU

- SCUM developer undershirt

- Exclusive skull tattoo. (Head, and left arm)

- Mini Game Design Document. So you can see how SCUM was made from the beginning.

- Templates for our orange and black t-shirts so you can print them out for yourself.

- Mystery prison pocket item. How to claim it? You'll figure it out.


UPDATE 1

- Nice Watch (in-game watch)

UPDATE 2

- 2 inches in length

UPDATE 3

- Willy Warmer

UPDATE 4

- Whistling
Об игре
Миру недостаточно простых развлечений. Теперь он жаждет крови, и медийный гигант TEC1 готовит премьеру второго сезона телевизионной сенсации SCUM, чтобы удовлетворить потребности зрителей. В новом сезоне участники не будут ограничены закрытыми аренами; их ждут густые леса, холмистые поля и труднопроходимая местность на персональном острове TEC1 — SCUM. Новые заключенные и старые любимцы зрителей схлестнутся в беспощадной борьбе за выживание — а также за поддержку аудитории, продюсеров и корпоративных спонсоров, которые могут принести славу, подарки и шанс на жизнь после смерти.
SCUM — это многопользовательская игра на выживание, разворачивающаяся в открытом мире и открывающая невиданные раньше просторы для кастомизации персонажа, настроек управления и сюжетного развития. Уцелеть помогут только знания и навыки. SCUM — это тщательное планирование и выживание в суровых условиях с опциональными сетевыми PvP-событиями; уникальное сочетание масштабных действий и комплексного модулирования сделает эту игру достойным представителем нового поколения игр на выживание. 
Игра SCUM разработана на основе Unreal Engine 4 и будет развиваться на протяжении всего периода раннего доступа. Все подробности об обновлениях будут доступны в ежедневных блогах разработчиков, а также на Twitter @SCUMgame.
Вы можете
купить SCUM в Украине
и СНГ дешево и быстро.