Sniper Ghost Warrior 3
Выберите издание:
Способы оплаты:
Приват24
|
Visa
|
MasterCard
|
Терминал
|
LiqPay
Минимальные:
ОС: Windows 7/8.1/10 64-bit

Процессор: i3 3240 3.4 GHz or AMD FX-6350 3.9 GHz

Оперативная память: 8 GB ОЗУ

Видеокарта: NVIDIA GeForce GTX 660 2GB or AMD Radeon HD 7850 2GB

DirectX: Версии 11

Место на диске: 50 GB

Дополнительно: Online Connection Requirements: 512 KBPS or faster Internet connection
Примечания к обновлению



Sniper Ghost Warrior 3 multiplayer is now available. Thank you for your continued support and patience!

The complete list of patch notes can be found on our Community Hub.
Эксклюзивное предложение от Steam
Hello Snipers!

We have heard many compliments about the in-game music we created. For this reason we decided to give you the possibility to get the soundtracks on your own devices and listen to them more often than while sniping in Georgia.

Listen to the short previews of some of the songs and get the whole playlists:





Composed and produced by Mikolai Stroinski (The Witcher 3: Wild Hunt – Blood and Wine, The Vanishing of Ethan Carter, Detached, Kursk), mixed by Steve Kempster and recorded by Tony Phillips at Beautiful Noise Studios in Los Angeles, each artist was invited to the studio to provide his or her own element to the overall score. Some instruments used that may be familiar to a Western audience include drum, bass, synthesizer, guitar and vocals; but, there's also the use of mandolin, balalaika and bandura.

Artists involved include:
● Vocals - Aurelia Shrenker
● Guitars, Balalaika, Bandura, Mandolin - George Bernhardt
● Synthesizers - Mikolai Stroinski
● Bass - Paul Bushnell
● Drum Set - Joel Taylor

Some songs on the soundtrack have a noticeable Georgian touch to them, and a fair amount of Sniper Ghost Warrior 3's score is inspired by various folk and pop music researched prior to the pre-production of the game score. The goal in mind for the Georgian-influenced songs are to enhance the player's emotions and to emphasize the location in Georgia while also leaving the location to be painted by other elements in the game such as the graphics and dialogue.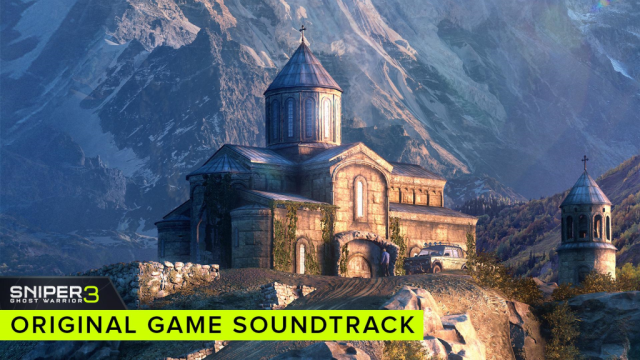 Об игре
В этом новейшем военном шутере вы отправитесь в тыл врага. Вы станете американским снайпером, заброшенным в Грузию вблизи границы с Россией. Вы сами сможете выбирать способы выполнения заданий в открытом мире, который не прощает ошибок.
Станьте снайпером:
атакуйте цели издалека. Учитывайте угол возвышения, поправку на силу и направление ветра, управляйте дыханием, принимайте нужное положение для стрельбы, выбирайте правильное оружие и боеприпасы.
Станьте призраком:
выслеживайте и скрытно уничтожайте противника различными способами. Скрытное прохождение включает разведку с беспилотника и вертикальную навигацию.
Станьте бойцом:
используйте самые разнообразные виды современного вооружения. Применяйте различные модификации оружия в соответствии с вашими личными предпочтениями и типами заданий. На выбор: штурмовые винтовки, дробовики, пулеметы и даже взрывчатка.
Станьте всеми тремя сразу:
вы - американский снайпер, заброшенный в Грузию вблизи границы с Россией. Жестокие полевые командиры захватили эту территорию, и только вы можете предотвратить сползание целой страны в хаос.
Исследуйте огромный открытый мир с чередованием дня и ночи и изменяющимися погодными условиями, которые влияют на игру и принимаемые решения. Sniper Ghost Warrior 3 - это история о братстве, вере и предательстве на земле, политой кровью гражданской войны. Вы можете
купить Sniper Ghost Warrior 3 в Украине
и СНГ дешево и быстро.