The Last Roman Village
Дата релиза:

Jul 26 2019

Разработчик:

Издатель:

Вебсайт:
Минимальные:
ОС: Windows XP SP3, Windows Vista SP2, Windows 7, Windows 8, Windows 10 (32/64bit versions)

Процессор: Intel Pentium IV @ 3.0 GHz or AMD Athlon64 3000 + @ 1.8 GHz

Оперативная память: 2 GB ОЗУ

Видеокарта: nVidia GeForce 6800GT or AMD Radeon X1950 Pro (256MB VRAM with Shader Model 3.0 or higher)

Место на диске: 2 GB

Звуковая карта: DirectX Compatible Sound Card

Дополнительно: Windows-compatible keyboard and mouse required, optional Microsoft XBOX360, PS4 controllers or another compatible controller
Time of peace is over. The Roman Empire doesn't exist anymore. Everything is in the hands of General Marcus Aurelius to preserve and protect the last piece of roman history. Enemies are attacking on both sides, and it is important to keep good defense and balance on both flanks. With a little luck and wise choices you will be able to take the best decisions to show the enemy hordes that the Last Roman Village will remain.
Times are hard choose wisely every coin you spend...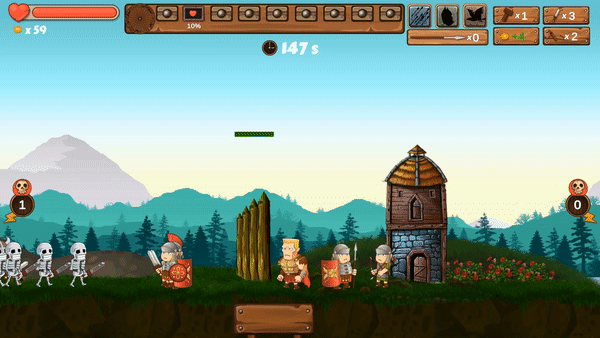 GAME KEY FEATURES:
* Build and Upgrade more than 10 buildings
* Train and upgrade roman soldiers
* Defeat big variety of enemies like skeletons, orcs, trolls, minotaurs goblins and more
* Defeat 10 unique bosses
* Wheels of Soldier give you options to win many surprises like dog pet, 10% more attack and defence for all soldiers, stronger walls and towers, 3 magics (summon soldier, arrow rain and wrath of gods), coins and more
* Beautiful music and weather change atmosphere
* The game will not have any paid features or DLCs Вы можете
купить The Last Roman Village в Украине
и СНГ дешево и быстро.